01.11.18
A Quiet Room In Walthamstow, directed by Tiago Teixeira, will be part of the 2019 London Short Film Festival.
11.09.18
Isha, directed by Christopher Manning, will be premiering at the 62nd BFI London Film Festival.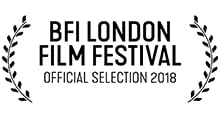 11.07.18
The preview scene we edited of Anatolian Leopard (dir: Emre Kayis) for the Jerusalem Sam Spiegel International Film Lab competition won the top prize. The feature is expected to be shot in 2019.
04.12.17
Thursday Night, by Gonçalo Almeida, has been selected for the 2018 Sundance Film Festival.
22.11.17
'You' - Field Trip to the Moon, directed by music video legend Steve Barron (Billie Jean, Take on Me, Burning Up), is released online @Magnet Magazine
15.10.17
Laws of the Game receives Honourable Mention at the BFI London Film Festival.